Music School
in Miami Florida
Professional
Music Lessons
Discover your musical talents through our music programs
led by experienced teaching artists.
Why Crescendo Music Center?
As one of the oldest music schools in Miami, Crescendo Music Center has been providing music lessons to students in South Florida since 2003.
Our main initiative is to teach music not only because we expect all our students to become professional musicians, but because we want music making to be an enjoyable and motivating experience for our students.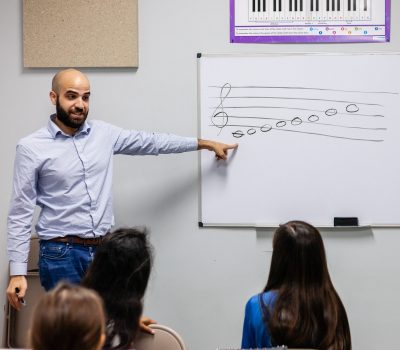 Watch our music school performance - start your music lessons today.
A lifelong love of music starts here.
"Crescendo Music Center has allowed both of my nephews to excel not only in familiarizing themselves with musical instruments, but has allowed them to excel in every other area of life. Thanks to the music teachers hard work, dedication and patience, I have been able to watch my nephews flourish into little musical prodigies. The school has amazing work ethics and really puts their students first. Thank you, Crescendo Music Center!"
"My son wanted to start piano classes and upon researching I found Crescendo Music Center, I called and left a voicemail and not even 15 minutes later received a called back. The assistant on the phone gave me all the information I was looking for and was very detailed and polite. I brought my son into the school a few days after for his piano class and he fell in love with the school and his teacher. The teacher was very nice and patient and my son couldn't wait to start classes. This school is very clean and the staff is very professional. 100% Recommend!"
"Amazing staff. Very knowledgeable teachers who show genuine concern for my child's progress and keep me involved in his learning journey. My family and I love the concerts they put together twice a year because they give everyone the same high importance no matter their level of accomplishment. It is a very fun experience! I truly TRULY recommend them to anyone who wants their kids to be exposed to professional music classes in an enjoyable and nurturing environment."
School affiliations include the National Federation of Music Clubs, Music Teachers National Association, and the National Association for Music Education.